You might have heard of these but never really knew what it was. Some brands you definitely know but didn't know the other flavors. The following are foodies' must try treats:
Cookie Dough Bites: Birthday Cake
Sure you have heard of the movie going classic, cookie dough bites but, did you know they have Birthday Cake bites?! I myself am picky with chocolate and chocolate chips so I'm not exactly a huge fan of the original. However, I am a giant fan of anything birthday cake. So naturally I was very excited to try and expecting the soft, crumbly flavor of a cake. But, much like the original, this new flavor tastes a lot like just sugar and mostly icing–not much like dough. Still worth a try though and very different.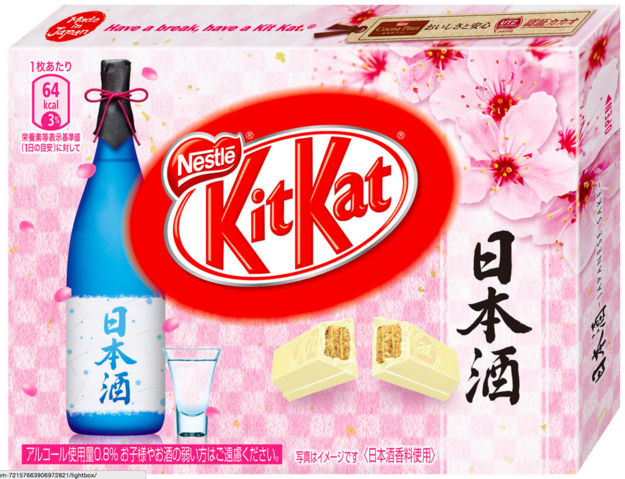 Kit Kat: Sake
Another well known treat, Kit Kat has another flavor that may be new to you. This isn't  their first creative flavor as they have matcha and raspberry. But, Sake is the newest flavor that we definitely weren't expecting. The chocolatey wafer resembles the white chocolate Kit Kat. When you bite into it you quickly realize it is not the same at all. There are honey notes and a sensation of alcohol coating your mouth. Most inventive flavor usually fail to achieve the real essence of the intended flavor but Kit Kat surely does not disappoint.
Cadbury: Oreo
This is the Queen's choice of chocolate, but I wonder if she's ever had this dreamy kind. Typically an Oreo lover looking to eat a chocolate bar has their eyes set Hershey's. But if you love Oreo you won't be able to resist this. Cadbury's Oreo bar has their classic, creamy milk chocolate covering what resembles a less sugary Hershey's cookies and cream bar. Cadbury always exceeds in making subtle yet crave worthy flavors which is a perfect fit for this bar. Usually cookies and creme bars have an overly sweet white chocolate that can't be tolerated for too long. In this one of a kind of bar, there's just enough white chocolate to give you a taste of Oreo cream, more crunch of the cookie, and an absolute delicious touch with the velvety, milk chocolate coating.
Salsagheti
Now this is a treat you may never have heard of at all. Salsagheti is unlike anything you've ever had. Mexican treats are go-tos for when you want something deliciously different. Traditionally they combine sweet and spicy flavors. This treat in particular is a watermelon flavor with a gummy texture much like licorice. It has an extra zingy, spicy flavor, the "salsa" part which is brought by a hint of chili powder. For more punch of flavor you can add "pasta sauce" which is a small packet of tamarind sauce for even more flavor and spice. This treat is perfect for those who like to have salty and sweet all in one but also those who crave spice. Truly unlike anything else.
¡Que Mango! Xtreme
Another adventurous Mexican treat is a type of lollipop. But don't get it twisted, this is NOT your doctor's lollipop. ¡Que Mango! is a lollipop at its core with a faint mango taste. It isn't an overly sugary candy like most lollipops as the sweetness is cut by the slightest spice and bitter flavors. Each flavor complimented so greatly as just before you think its too bitter or too sweet you get a note of a different flavor. Choose how you may eat it of course but biting it I believe is the best as you get a crunchy mouthful of all flavors at once. Or, just simply savor the spices on the outside as if it's chocolate and then have your sugary goodness in the end. Seriously, you gotta try (I was weary too but I only want more and more!)